>
Our lives and well-being are intimately connected to the people we interact with the most. With the leaders I coach, their lives and businesses are held together by relationships. We talk a lot about our families at home, our families at work, and how important it is to stay in sync with the people closest to us.
The quality of lives is directly correlated to the quality of our relationships.
Alex Jamieson and Bob Gower have been working with entrepreneurs and organizations for decades. I've observed them as a married couple. They have always been fiercely committed to creating a high-level of transparency and connection in their relationship.
They have taken these values for clear communication, and wrote a book for leaders called Radical Alignment— How to have game-changing conversations that will transform your business and your life.
The book comes out on August 11, 2020 on Sounds True. This Epic Life Podcast subscribers can grab the exclusive cheat-sheet for the book below!
In their new book "Radical Alignment", Alex & Bob share a powerful 4-step framework for a structured conversation. The "All-In Method" (AIM) is a simple, guided conversation that helps all parties gain clarity about a tough topic.
GRAB THE EXCLUSIVE
CHEAT-SHEET
From the book: "The All-In Method is appropriate for any topic that feels important and that's likely to raise deep emotions. It is best to use AIM at the beginning of a project and before emotions are running high. However it is appropriate any time you want to connect and more deeply align with your teammates, your partner, or even yourself."
$3500 IN PRE-ORDER BONUSES!
About our Guests

Alexandra Jamieson is the bestselling author of five books, and co-creator / co-star of the Oscar-nominated documentary Super Size Me. She is a highly-sought-after success mentor and motivational guide for thousands and has made it her mission to empower women to create epic lives. Her work has been praised by Oprah, The Today Show, Dr. Oz, Goop, Martha Stewart Living, the New York Times, CNN, USA Today, People, and many others. Alex hosts Her Rules Radio, a #1 rated podcast and an award-winning watercolor painter. Her wellness expertise has grown out of a decade of experience, as well as her education at the Natural Gourmet Institute, the Institute for Integrative Nutrition, and a certification in Applied Positive Psychology.
Bob Gower is a New York-based consultant, writer, and speaker. He is a contributor to Inc. magazine and the author of the books Agile Business: A Leader's Guide to Harnessing Complexity. He is a sought-after speaker and teacher, having keynoted gatherings on four continents and lectured at Columbia University, NYU's Stern School of Management, the Berlin School and many others. Bob has worked with leaders at organizations from multinationals like Chanel, Ericsson, Ford, and GE to non-profits like New York Public Radio, the Studio Museum in Harlem, and the Wikimedia Foundation, among others. Bob holds an MBA in Sustainable Systems and a certification in Applied Positive Psychology.
Connect with Alex & Bob, and their work…
Radical Alignment Website – Pre-order the book
Radical Alignment on Barnes & Noble
Her Rules Radio (Alex's Podcast)
Alex Jamieson official website
.

You will learn in this conversation:
.
A behind the scenes look at tackling a major creative project (like a book) with your spouse.
The "All-In Method" for game-changing conversations.
How they used the method to get into alignment before committing to the book project.
A step-by-step walk through of how to use the method.


GRAB THE EXCLUSIVE
CHEAT-SHEET
About our Host
Kristoffer Carter ("KC") is a coach for founders and executives, and meditation teacher for organizations. He is also the founder of This Epic Life, and creator of the Full-Life Integration™ Framework.
​As a meditation teacher, KC has over 33,000 active students on Insight Timer. As a workplace culture consultant, he has designed, or is delivering conscious leadership programs for AT&T, Avery-Dennison, Good Life Project™, Litera Microsystems, and more.
KC's Mission + Values-centric programs have been featured in Business Insider, onstage at TEDx ("What if change was FUN?") and Wisdom 2.0, and in countless conferences and podcast interviews.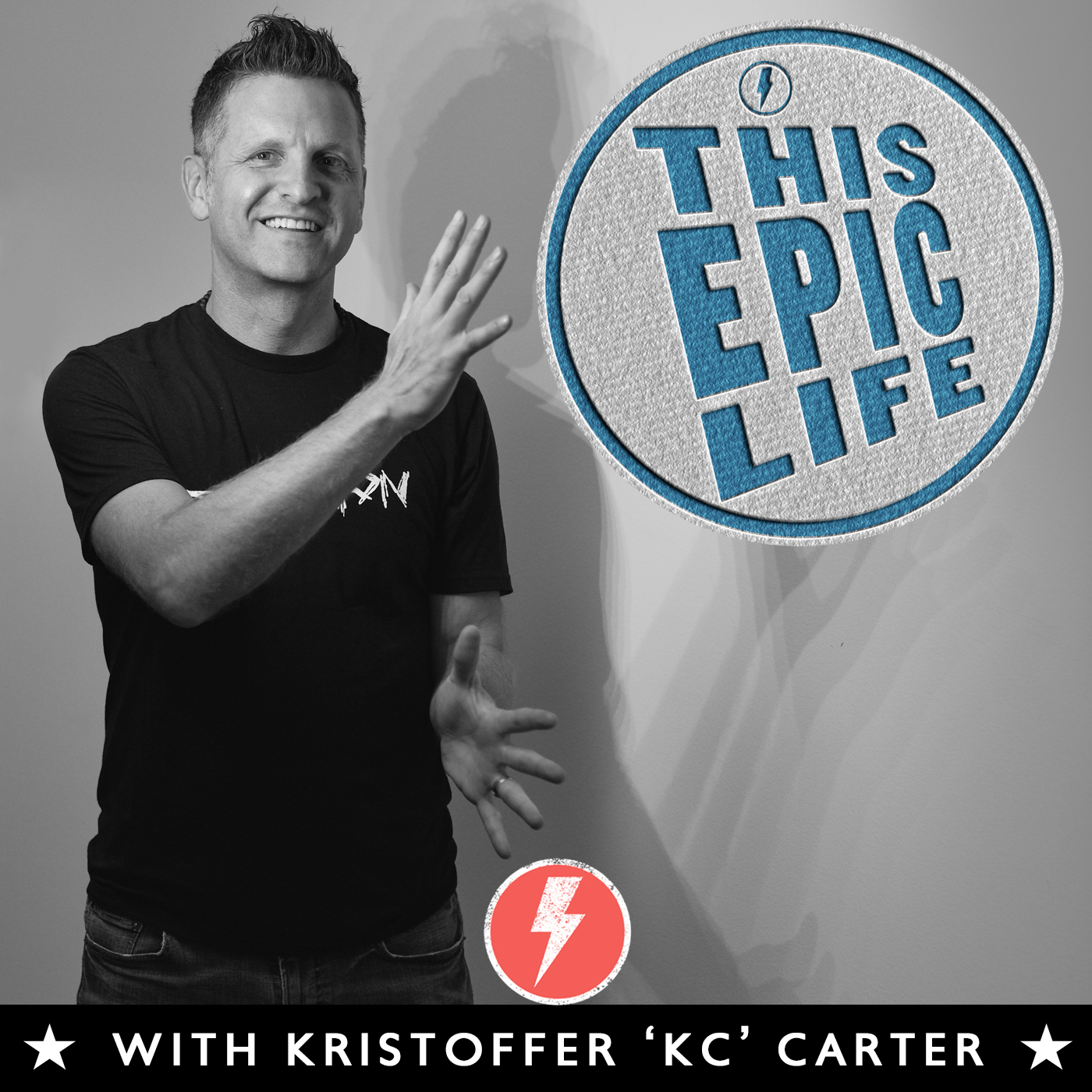 HEAR MORE, SUBSCRIBE!
Incredible leaders + creators, how they live, and how they contribute to the world we deserve. Our show explores 3 powerful permissions with guests and listeners: Permission to Chill, Permission to Feel All the Feels, and Permission to Glow in the Dark.
Emceed by yogi, Dad, and executive coach KC (Kristoffer Carter). Learn more: thisepiclife.com
Access all of our episodes:
Apple Podcasts | Spotify | Stitcher