What do you recall about being a teenager? Was it fun for you? I recall having big dreams, while also being relentlessly uncomfortable with myself.
Many clients, friends, and fellow parents have taken an interest in our 15 year-old daughter Elliott's emerging career as a professional singer, and songwriter. Elliott first performed alongside me when she was 8, singing "Hallelujah" to our packed yard of neighbors during Akron's PorchRokr event.
A clip of her magical, first-attempt at public performance is included in today's episode, along with other snippets of her musical evolution.
…And she has never stopped.
In the last 7 years, Elliott found her "soul-bro's" in their band Detention, which has garnered regional radio play, and plenty of press as winners in the 24th Tri-C High School Rock Off at the Rock and Roll Hall of Fame.
About their winning performance, Barry Gabel, Senior VP for Live Nation said: "The band was tight, fun, exciting, and had the audience going crazy!"
Although SXSW was postponed this year, Detention was invited to showcase, and has been drawing more national attention since their Rock Hall win.
The most fascinating piece for us as parents, is watching Elliott find, and own her authentic voice. It's one thing to sing in tune, and another thing to inspire fellow young women, or navigate ways of working with her 3 bandmates. Through it all we are witnessing the becoming of a true music-obsessed artist.
Elliott performs a brand-new song she wrote at the end of this episode.
As you may hear, I've never been more uncomfortable in an interview. We want the best for our kids, we hope we're not screwing them up, and we have zero idea what's about to come out of their mouths next! LOL…. grrrrrroan. My goal was to provide an unfiltered view of modern-day parenting, as well some ideas on how to engage the people we love into becoming the highest version of themselves.
We cover communication, the thin line between parenting and coaching, where we completely disagree, and the bridge of love and infinite possibility that is music.
Semi-ProTIPS: Make music accessible everywhere. Crank the vinyl. Leave instruments around that are in-tune and ready to be played. Create the environment where kids can let themselves get lost in the love of practicing.
Please enjoy this far-ranging conversation with our amazing daughter, and resident Young-Woman-Rockstar— Elliott Rose Carter.
About Detention
Detention is a young rock band from in, and around Akron, Ohio.
But how are these four high-school and middle-school-aged hellions making such strides?
They've already been together for years creating their own sound. There's an almost addictive, infectious energy in a band playing at the edge of its abilities, while staying fully committed to its potential.
The band recently won the 24th Annual Tri-C High School Rock Off at the Rock & Roll Hall of Fame in Cleveland, OH. Detention has also performed a packed show at the world-famous Whisky a Go Go in Hollywood, CA, which led to a showcase performance during the (postponed) SXSW Music Festival in Austin, TX.
The band regularly packs shows around Northeast Ohio, and is starting to create a regional footprint – driven by consistent radio play of four self-released singles, "Devilberries", "Emphatic YES!", "In Reverse", and their latest single "Thermo".
Detention has performed on-air for a sold-out live performance for "Studio Session C" on WAPS 91.3-FM The Summit and as featured guests on "The Really Big Show" with Tony Rizzo on WKNR ESPN Radio, Cleveland. Rizzo heard their version of "Helter Skelter" and wouldn't stop talking about "these kids from Akron".
Detention's music is a mash-up of its collective influences, which range from Foo Fighters to Twenty One Pilots, Green Day to Ani DiFranco and Billie Eilish. The result is part teenage angst and humor and part life growing up in the post-industrial Midwest. In performing "Dead Malls", singer Elliott Carter warns us: "Look around, it's falling down / our London bridge, this broken town / where ivy crawls inside these walls / 'til kingdom calls, burn it down."
Founding members Fritz Dannemiller (bass) and Luke Konopka (drums) lock into heavy, pulsing grooves on tracks like "Emphatic YES!" and "Thermo", while Evan Cox adds textured guitars, with pops of frenetic, shredding solos. The band's high-energy spin on covers like Devo's "Uncontrollable Urge" and The Beatles' "Helter Skelter" have also received wide praise and radio attention.
The band continues to hone its explosive live show to back it all up and have had heroes like Gerald Casale from Devo sit in on a show. In fact, Detention has been invited to be the house band for Devo's 5K Race in downtown Akron and will be in the lineup for the "DEVOtional 2020" concert at Beachland Ballroom.
Connect with Elliott
Reverb Nation –
Electronic Press Kit
.

You will learn in this conversation:
.
Parenting teenagers, and opportunities to connect and learn from one another.
The pros and cons of introducing your 4th grader to Eminem's music. (lol)
Ways of inspiring creative, or artistic expression in children, or others such as clients
Overcoming adversity and letting it rip in the face of fear
Ways of showing up as a leader when you don't feel prepared
The importance of practice, and falling in love with improvement
How to to attack a dream with reckless abandon, while not over-thinking it.
CONNECT WITH FELLOW SOUL-DRIVEN,
CONSCIOUS LEADERS
About our Host
Kristoffer Carter ("KC") is a coach for founders and executives, and meditation teacher for organizations. He is also the founder of This Epic Life, and creator of the Full-Life Integration™ Framework.
​As a meditation teacher, KC has over 33,000 active students on Insight Timer. As a workplace culture consultant, he has designed, or is delivering conscious leadership programs for AT&T, Avery-Dennison, Good Life Project™, Litera Microsystems, and more.
KC's Mission + Values-centric programs have been featured in Business Insider, onstage at TEDx ("What if change was FUN?") and Wisdom 2.0, and in countless conferences and podcast interviews.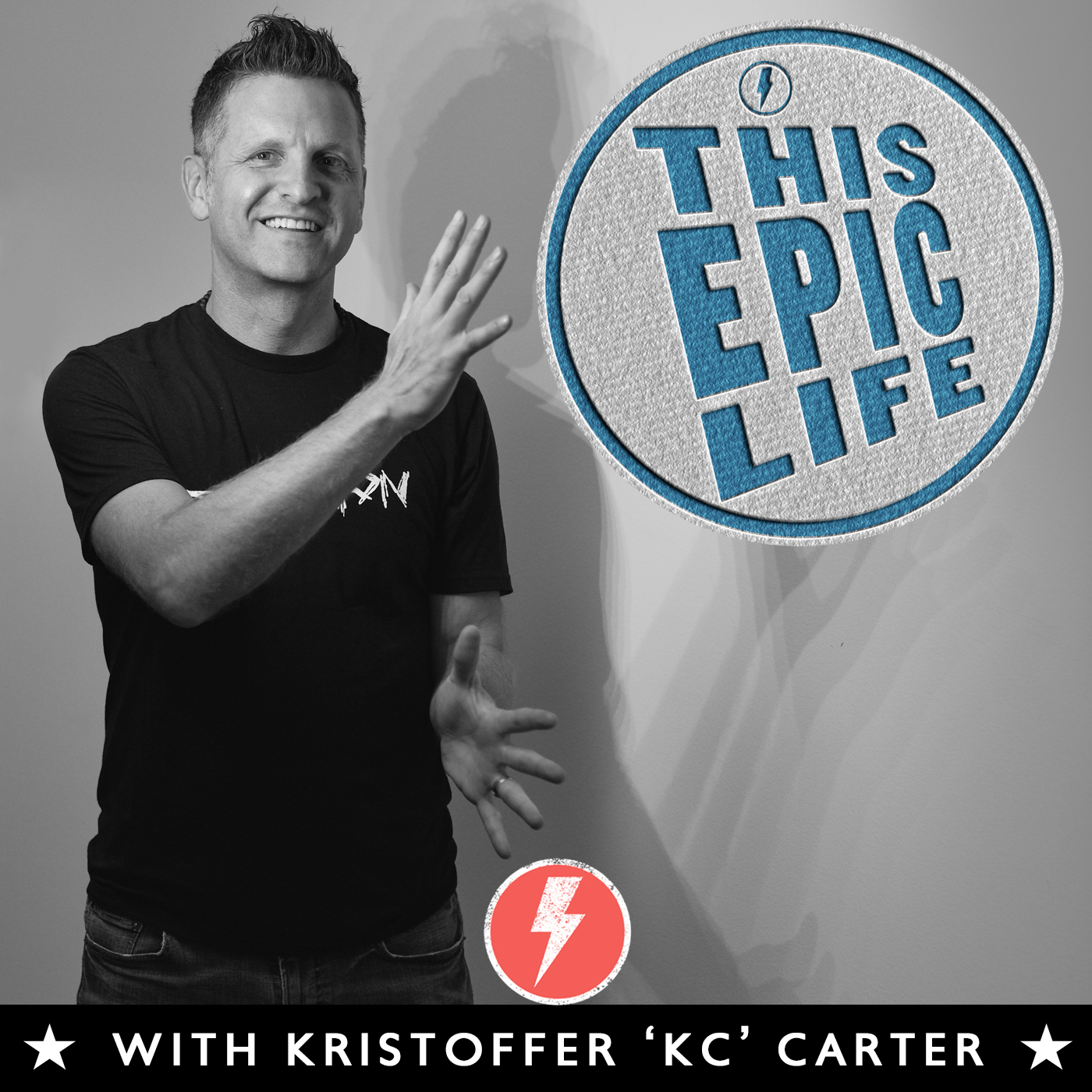 HEAR MORE, SUBSCRIBE!
Incredible leaders + creators, how they live, and how they contribute to the world we deserve. Our show explores 3 powerful permissions with guests and listeners: Permission to Chill, Permission to Feel All the Feels, and Permission to Glow in the Dark.
Emceed by yogi, Dad, and executive coach KC (Kristoffer Carter). Learn more: thisepiclife.com
Access all of our episodes:
Apple Podcasts | Spotify | Stitcher